About Our Company
Itel Computer was established in the year 2007 April at Porur Chennai. Laptop Store was formed by Mr. Rajkumar Jayavel who has been associated with the computer industry since 2002 & are actively engaged in the sales & service sectors of IT.
Later in 2010 the company name changed to Laptop Store with added sales division. Laptop Store, the world class laptop sales and service center, fully equipped with Hi-tech debugging tools and a huge team of highly qualified and trained engineers.
Now Laptop Store is an well known company in Chennai, Bangalore, Mumbai & Pune provides laptop sales and services of all major brands around 13 branches.
Our Team
Our portfolio of products covers the entire array of the information technology needs of customers from different segments of the industry.
We are a total solution company offering customized solutions as diverse as the unique needs of customers. Our product lines cover basic systems to integrated solutions, offering a complete choice for our esteemed and discerning clientele. We have modern facilities in Service Center with highly experienced & skilled engineers for chip-level repairing of all Brand Laptops. We work together with our customers for success.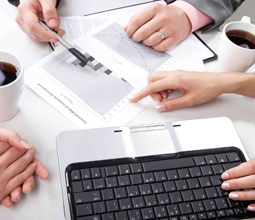 Key Strength
Laptop Store is promoted by qualified & skilled technocrats who own a lineage of more than two decades experience in Sales, maintenance & support of hardware.
The company is currently engaged in all Business Segments like Sales & Service, Annual Maintenance Contract (AMC) & Chip Level Repair of Laptop, Desktop Computers & other Peripherals.
Our Customer Assistance Cell with a well-defined hierarchy of professionals handle day to day management of customer calls, telephonic support on-site as well as for in-house repairs & added Sales in laptops. Now Laptop Store branches are more than 10+ all over India.
Our Vision
By working with passion and focus on Quality and Efficiency to create competitive advantages for our customers, and in doing so always live up to our company values
Our Mission
Our Mission is to achieve consistent identity in the deliverance of highly qualified services and adding values to the clients through pro-activity, transparency in communication and on time deliverance of products through excellent performance.
We practice sustainability to safeguard our environment and maintain the highest levels of professionalism, honesty and trust in our relationship with clients & employees and affiliates. Also our main term is to raise the rate of Customer across India with our quality of services also expand
Our Philosophy
We have a success story to foretell our Corporate ideal & the ensuring progress in our business. Customer Satisfaction is always in our prime focus and our activities are geared towards creating a Customer Centric Infrastructure.
Ever since it's modest beginning, Laptop Store has made great strides to its present dynamic existence with a firm thrust on our committed quality standards.
At Laptop Store, our quality standards are a continuous process, ensuring and targeted to achieve customer satisfaction as the key stone in building up the future.